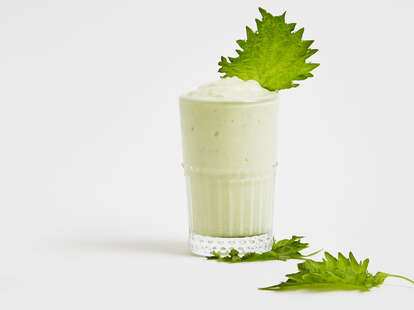 MATTHEW KELLY / SUPERCALL
Avocado smoothies are all the rage, especially among the health-conscious crowd at vegetarian tapas bar Ladybird in New York's Greenwich Village. There, beverage director Ariel Arce satisfies her customers' green juice craving with a light Champagne-spiked avocado slushy, enriched with shiso syrup and brightened with cucumber juice. It may not be paleo, but it's so good, you won't regret blending yourself a second one for a bottomless avocado brunch.
Dodo
INGREDIENTS
.25

avocado

3 oz

Champagne

1 oz shiso syrup
.25 oz

cucumber

1.5

shiso leaves, divided
INSTRUCTIONS
Step one
Add all ingredients (including half of a shiso leaf) to a blender with crushed ice, and blend to a smooth consistency, somewhere between a smoothie and a slushy.
Step two
Pour into a milkshake glass.
Step three
Garnish with a shiso leaf, and serve with a straw.
Contributed by Ariel Arce