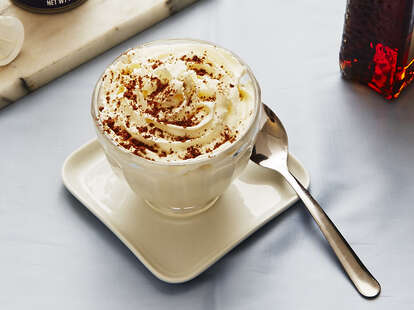 Matthew Kelly / Supercall
Every Italian knows there's no better way to end a meal than with tiramisu. The name of the dessert translates to "pick me up," and it does just that with its buzzy mix of booze, sugar and caffeine. For this jiggly, super easy take on the classic dessert, we combined nutty amaretto and coffee liqueur with vanilla pudding and freshly-made whipped cream. A dusting of cocoa powder gives it that signature bittersweet finish to remind you that, even though you're eating instant pudding, you're still a grownup.
Tipsy Tiramisu Pudding
INGREDIENTS
.5

Coffee Liqueur

.25

Amaretto

1 Cup

Milk

1 box

Jello vanilla pudding

4 oz Whipped Cream

Cocoa powder
INSTRUCTIONS
Step one
Add coffee liqueur, amaretto, milk and pudding mix to a large bowl.
Step two
Using a handheld electric mixer, whip the ingredients together until smooth and thick.
Step three
Fold in the whipped cream.
Step four
Spoon into cups and place in the refrigerator to chill. Sprinkle with cocoa powder and serve.
Contributed by Supercall