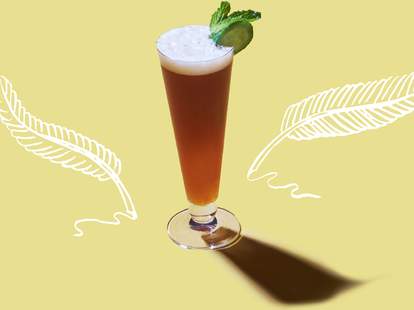 This cocktail celebrates not only one of the greatest pieces of English literature, but also one of the greatest English cocktails, the Pimm's Cup. Amped up with the spicy zing of homemade ginger syrup, the spritzy cocktail gets its sour tang from a trifecta of citrus juices: orange, lemon and grapefruit. The gose-style beer, brewed with coriander and sea salt, adds just a hint of salty, oceanic brine.
INSTRUCTIONS
Step one
Pour the Pimm's, sour mix and ginger syrup into a pilsner glass. Top with the beer.
Step two
Stir with a bar spoon to incorporate. Garnish with fresh mint and a slice of cucumber.
Contributed by Supercall