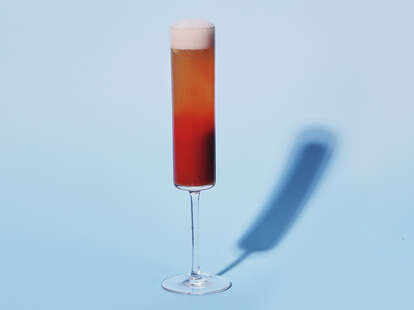 MATTHEW KELLY / SUPERCALL
This refreshing aperitif breathes effervescent life into the tried and true brunch staple. Reminiscent of cold, cucumbery gazpacho, this Bloody Mary mixes vodka with spicy, briny Clamato Picante, spritzy sparkling wine and cucumber bitters for a bright vegetal sweetness. After trying one, you'll wish more of your favorite brunch spots served this invigorating tipple.
Bubbly Mary
INGREDIENTS
.75 oz

Vodka

2 oz

Clamato Picante

2 oz

Cava

3 hefty dashes

Cucumber Bitters

Lemon twist, for garnish (optional)
INSTRUCTIONS
Step one
Add the vodka, Clamato Picante and bitters to a Champagne flute.
Step two
Top with the cava or prosecco, and garnish with a twist, if desired.
Contributed by Supercall