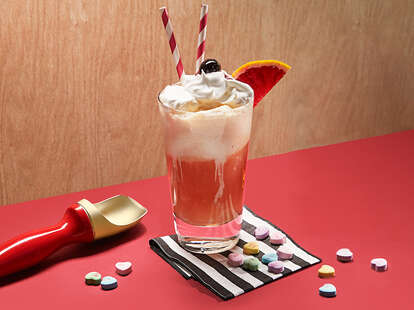 Aahhh… Valentine's Day. A time for shameless doting and giddy displays of affection. If ever an occasion called for celebrating our heartfelt connections over toothsome concoctions, it would be the evening of February 14.
Enter Love Floats, a perfectly romantic, sweet treat that's built for sharing. Over a base of whisky, it's layered with blood orange juice and cream soda, and topped off with vanilla ice cream, whipped cream, a cherry, and a blood orange wedge garnish.
We fully recommend going the extra mile and sprinkling the whole presentation with candy hearts; then plant two straws, and sip while staring into each other's eyes. Cue the arrival of Cupid floating, above the two of you, in 3…2…1…
The Ultimate Valentine's Day Cocktail
INGREDIENTS
1.5 oz

Whisky

1 oz

blood orange juice

3 oz

cream soda

1 Scoop

vanilla ice cream

1

maraschino cherry, for garnish

1

blood orange slice, for garnish

2

straws
INSTRUCTIONS
Step one
Add all ingredients to a Pilsner glass and top with a scoop of vanilla ice cream.
Step two
Garnish with slice of blood orange, cherry, and a dollop of fresh whipped cream.
Step three
Optional garnish: Candy hearts.
Contributed by