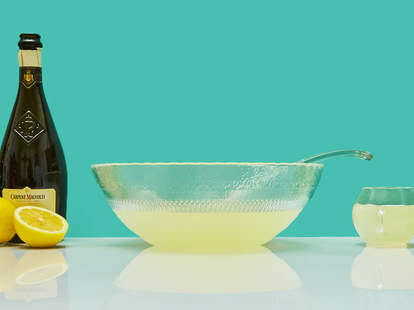 Marisa Chafetz / Supercall
Punch dates back some 400 years, and many of those early punch recipes traveled around the world on the ships of sailors who got their spirits near the equator. Back then, that meant punches were made with rum. But that doesn't capture the full range of the punch world. In many parts of the United States, whiskey punches became commonplace at large gatherings. In England—home of gin—gin punch, like this two century-old recipe from the Garrick Club, rose up. But in the frigid home of vodka (Eastern Europe and Russia), there has never been much of a punch culture. Perhaps it's because the Russians, the Poles and others in that part of the world didn't explore in the Caribbean or Indian Ocean, we may never know for sure. Regardless, just because vodka-based punch doesn't have the same history, doesn't mean vodka lovers need to be left out in the cold. Our recipe—made with little more than vodka, lemon juice and a sweetener—is strong, simple and, best of all, sparkling, thanks to a whole bottle of bubbly. While the sparkling wine gives the cocktail an air of luxury, you can break out this easy punch any time you have a bunch of people coming over and need to whip a drink up fast.
INGREDIENTS
2 cups

Vodka

1 Cup

Lemon Juice

.5 Cup Simple Syrup
1 750-mL bottle

Sparkling Wine
INSTRUCTIONS
Step one
Mix vodka, lemon juice and simple syrup in a punch bowl with large ice cubes.
Step two
Top with sparkling wine and give it a light stir.
Contributed by Supercall