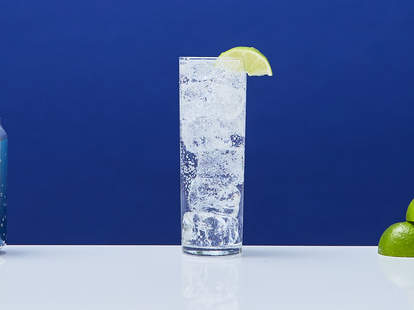 Marisa Chafetz / Supercall
The Vodka Soda takes a lot of flak for being a non-cocktail and has developed a reputation as a diet drink that's unworthy of attention or praise. While there are undoubtedly many more flavorful concoctions out there, the Vodka Soda is a reputable drink, built on the same trustworthy proportions as any standard Highball—and worthy of the same respect.
Even cleaner and more straightforward than a Vodka Tonic, the Vodka Soda is the most direct booze delivery mechanism beyond a straight shot. It lives up to its reputation as the quintessential low calorie drink, clocking in at around 130, so it's perfect for drinkers watching their intake of syrupy sweet mixers or avoiding the dry vermouth in a Martini. While there are plenty of ways to jazz up the Highball with flavored vodka or funky garnishes, the original formula remains perfect and unimpeachable. Add a two-ounce shot of vodka to a Highball glass and top with bubbly soda. It doesn't get much simpler. The soda elongates and mellows the bite of the liquor, but unlike tonic, it doesn't dampen the spirit's dry character or distract with its own bittersweet flavors.
Like any other cocktail, the Vodka Soda's quality comes down to the ingredients, so be sure to use a superior vodka that won't add any nasty, harsh flavors. And don't accept soda from a gun. For a bit of added texture and flavor, you can add a lime wedge for a touch of tartness to bring the cocktail one step closer to a Vodka Gimlet. But going garnish-less for a simple, cold, fizzy drink is totally acceptable as well.
INGREDIENTS
2 oz

Vodka

soda

lime wedge, for garnish (optional)
INSTRUCTIONS
Step one
Add vodka to a Highball glass filled with ice.
Step three
Garnish with a lime wedge, if using.
Contributed by Supercall