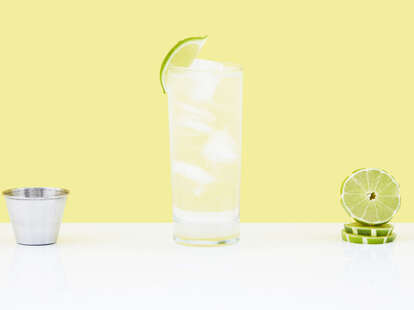 A twist on the Gin and Tonic, the Vodka Tonic is a no-brainer for those looking for a highly drinkable, juniper-free concoction. Though it's hard to say when this two-ingredient sipper first became popular, the drink is now just as ubiquitous as its herbaceous cousin. We recommend using a quality vodka and a craft tonic like Fever-Tree or Fentimans to get the most out of this simple drink.
Vodka Tonic
INGREDIENTS
2 oz

vodka

Tonic

Lime wedge
INSTRUCTIONS
Step one
Pour the vodka into a highball glass. Add ice, top with tonic and stir.
Step two
Garnish with a lime wedge.
Contributed by Supercall