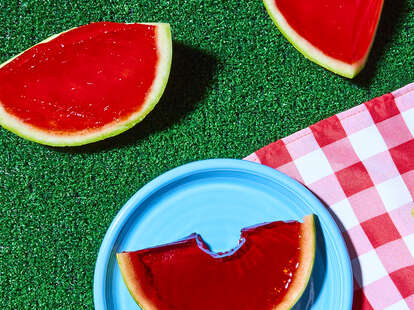 Marisa Chavetz / Supercall
Marisa Chavetz / Supercall
These delicious treats combine two things you probably never thought you would see together: Jello Shots and Negronis. Served in a watermelon rind for easy eating (and an impressive, ultra-Instagrammable presentation), this nibblable Negroni swaps out sweet vermouth for Watermelon or Cherry Jell-O, but keeps the classic combo of Campari and London Dry gin. It's cocktail geek meets sorority girl—and it really, really works. The sweetness of the Jell-O tames the bracing Campari and juniper-heavy gin, while the spirits give the mix a strong back bone and tons of flavor. Give a slice to a snobbish Jello Shot skeptic and they'll wiggle with glee. Share a wedge with a basic Jello Shot devotee and they might even ask you for a real Negroni. These Watermelon Jello Shots bring people together. It seems like a big claim, but it's one we stand by.
One of the best parts about these Jello Shots is that they are easy to make, as long as you make sure to slice a small round off the bottom of the watermelon half. If that hollowed out hull is stable, then these shots are as simple as mix, pour and slice. If you're wondering what to do with all of that delicious watermelon fruit that you scoop out to prepare the rind, try making a cocktail with it like a Watermelon Mojito, Watermelon Rosé Sangria or any of these craft watermelon cocktails.
Watermelon Jello Shots
INGREDIENTS
2 packets

Watermelon or Cherry Jell-O

1 packet

Unflavored gelatin

2 cups

boiling water

1 Cup

london dry gin

1 Cup

campari

1

Watermelon
INSTRUCTIONS
Step one
Slice watermelon in half (through the spot where the stem was) and slice off a small round on the bottom of each half for stability. Cut around the perimeter with a knife and use a large spoon to scoop out the fruit.
Step two
Pour the gin and Campari into a bowl and sprinkle the package of unflavored gelatin over the top.
Step three
Empty your flavored Jell-O packages into a large glass measuring cup with a pouring spout and top with two cups of boiling water. Stir to dissolve the powder, then stir in the gin, Campari and gelatin mix.
Step four
Set the watermelon halves on two small baking sheets and fill them to the top with the Jell-O mix. Place in the fridge to set for at least four hours.
Step five
Once the Jell-O has set, slice into wedges as you would a normal, non-jiggly watermelon.
Contributed by Supercall