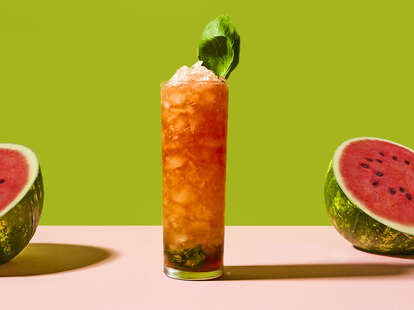 Marisa Chafetz / Supercall
Few things have the power of sweet watermelon, with its tender pulp and electric-hued juice, to bring relief on a blazingly hot day. Angela Montesclaros, who is the general manager and runs bar operations at Henry's Majestic in Dallas, couldn't agree more. "Watermelon is the perfect summer fruit, as it contains high water content that aids in cocktail dilution and natural sweetness," she says. "By pairing the Watermelon Swizzle with basil, it gives the cocktail earthy aromatics and helps visualize the colors of a whole watermelon." Montesclaros combines Plantation 3-Star Rum and Aperol to give this drink a fruity depth that still has the power to keep you cool, even as the mercury rises. Crushed ice makes it extra frosty and gulpable, so be sure to use it for the drink, if possible.
Watermelon Swizzle
INGREDIENTS
4

basil

1.5 oz

rum

1 oz

watermelon juice

.75 oz

Lime Juice

.75 oz Simple Syrup
.5 oz

Aperol
INSTRUCTIONS
Step one
Place basil leaves in the bottom of Collins glass. Gently press with a muddler twice.
Step two
Add rum, watermelon and lime juices, and simple syrup to the glass, and fill with crushed ice.
Step three
Using a bar spoon or swizzle stick, mix drink thoroughly.
Step four
Top with fresh crushed ice and gently tap the ice with bar spoon to layer.
Step five
Add Aperol and more crushed ice.
Step six
Garnish with basil leaf.
Contributed by Angela Montesclaros