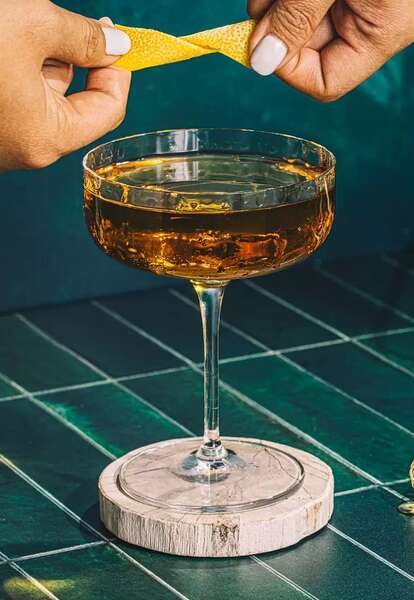 Photo by Cole Saladino for Thrillist. Photo Assistant: Mitchell Mylius. Food Stylist: Micah Morton with Big Leo. Food Stylist Assistant: Terrance Harvey.
Here's a Martini for whiskey drinkers. Created by Shae Minnillo, a bartender at Manolito in New Orleans, this take on a Dirty Martini swaps out gin or vodka for whiskey. "I wanted to combine a couple of my favorite classic stirred drinks—a Tipperary and a Widow's Kiss. This is a bold, spirit-forward cocktail that has a nuance and is sure to warm the mind and soul," Minnillo tells us. The result is a food-friendly cocktail great for cold-weather sipping.
The Doppelgänger Martini
INGREDIENTS
2 ounces

Whiskey

½ ounce

Blanc Vermouth

½ ounce

Yellow Chartreuse

½ ounce

Benedictine

2 dashes

Orange Bitters
INSTRUCTIONS
Step one
Add all ingredients except for the orange bitters to a mixing glass.
Step two
Stir with large, cubed ice and strain using a julep strainer into a chilled coupe glass.
Step three
Express the orange bitters over the drink and discard.
Recipe provided by Shae Minnillo