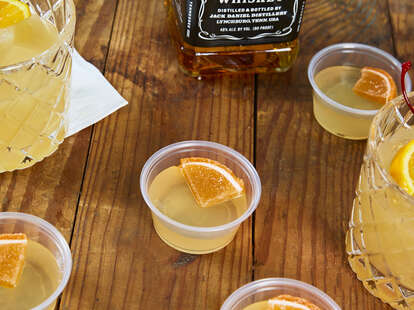 As with many classic cocktails, the earliest written evidence of the Whiskey Sour comes from Jerry Thomas in his 1862 Bartender's Guide. Serendipitously, the first written evidence of the Jello Shot also comes from Thomas' mid-19th century book. So it should come as no surprise that the citrusy sour can be easily adapted into a Jello Shot. For our Whiskey Sour Jello Shot we embrace the original Thomas recipe, long before most drinks with "sour" in the name had a foamy egg white on them, and instead were simple mixes of spirit, sugar and citrus.
Like other classic cocktails-turned-Jello-Shots, this recipe works best with unflavored gelatin as opposed to the bright J-E-L-L-O variety because it allows you to more accurately mix the flavors without any overpowering, artificial orange flavor, for example. Also, remember, just because you're making semi-solid cocktails instead of liquid ones, that's no reason to take shortcuts on the ingredients. Any cocktail (jello-ed or otherwise) is only as good as its parts. So make sure you use fresh lemon juice and an affordable whiskey that you actually like the taste of—we're fans of Wild Turkey 101, which also happens to make extra-potent shots thanks to its higher proof. Garnish these treats with a little slice of orange gummy candy to complete the full cocktail effect and you'll be ready for your next party.
Whiskey Sour Jello Shot
INGREDIENTS
1 packet

Unflavored Gelatin

1 Cup

Boiling Water

.5 Cup

Whiskey

.25 Cup

Lemon Juice

.25 Cup Simple Syrup

Candy Orange Slice
INSTRUCTIONS
Step one
Stir gelatin into boiling water until dissolved.
Step two
Add whiskey and lemon juice, simple syrup and stir.
Step three
Divide into plastic shot glasses.
Step four
Chill for at least 2 hours.
Step five
Garnish with pieces of orange slice candy.
Contributed by Supercall