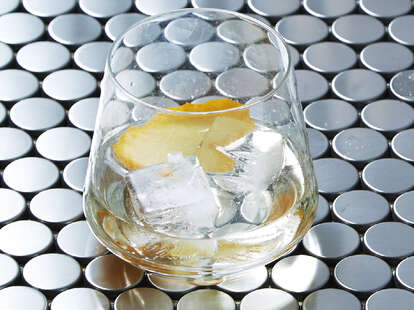 Matthew Kelly / Supercall
The White Negroni is nothing new. But barrel aging the cocktail—a technique used by Apothecary 330 in Fort Lauderdale, Florida—is a smart new way to give the libation greater depth. Bartenders stir gin with Cocchi Americano (in place of the usual sweet vermouth) and gentian-based Suze (instead of Campari) for a Negroni that's light, herbal, citrusy and just the right amount of bitter. While the drink is perfectly delicious fresh, aging it mellows out its sharp edges and helps marry all the bright and pungent flavors together. Plus, it's a fun and easy DIY project, which ends in a seriously delicious happy hour. To make it at home, get your hands on a mini oak barrel, mix the ingredients, pour them into the barrel and let it age for 45 days. Time and patience delivers a dry, balanced cocktail so tasty, you'd happily wait another 100 days for a taste.
INGREDIENTS
13 oz

Gin

9.75 oz

Cocchi Americano

9.75 oz

Suze Aperitif
INSTRUCTIONS
Step one
Mix gin, Cocchi Americano and Suze together in a 1-liter mini oak barrel. If you have a 2-liter barrel on hand, double the recipe. Age for 45 days.
Step two
When ready to serve, pour into a rocks glass with ice. Stir until cold.
Step three
Garnish with an expressed orange peel.
Contributed by Apothecary 330