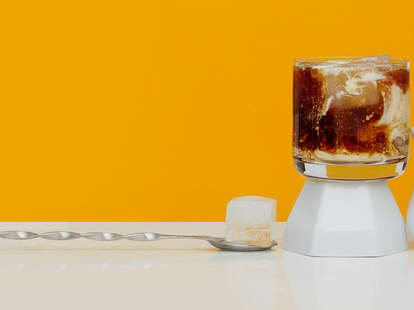 Matthew Kelly / Supercall
The Dude (aka Jeff Lebowski, aka Jeff Bridges) may have re-popularized the White Russian (or, as he called it, the Caucasian) but he didn't invent it. The cream-enhanced take on a Black Russian cocktail (vodka and coffee liqueur) dates back to the 1950s or '60s—long before The Big Lebowski was in theaters—making its first appearance in print in 1965 in the Oakland Tribune, now known as the East Bay Times. The recipe printed called for all equal parts vodka, Coffee Southern (a coffee liqueur from Southern Comfort that was popular at the time) and heavy cream. Today, the most commonly used coffee liqueur is Kahlúa, but you can swap that brand out for any coffee liqueur of your choice, including craft coffee liqueurs or homemade coffee liqueur (it's easier than you might think). While the cocktail experienced some popularity in the '60s and '70s, it came to be considered tacky, and fell off cocktail menus until 1998 when The Big Lebowski's cult fame brought the cocktail back from the dead. While some folks ironically chose to enjoy the drink, others found it to be genuinely delicious, appreciating the way ice cold cream mixes with bittersweet coffee liqueur and bracing vodka. And the cocktail experienced a bit of a renaissance. Recently, some bartenders have been giving the drink a makeover, swapping out the traditional cream for coconut milk or using inventive replacements for coffee liqueur. As tasty as these craft versions of the creamy cocktail are, though, the original is easy to make at home and pretty close to perfect when all you want is some liquid dessert at the end of the night—or noon on a Sunday.
INGREDIENTS
1 oz

Vodka

1 oz

Coffee Liqueur

1 oz

Heavy Cream
INSTRUCTIONS
Step one
Pour the vodka and coffee liqueur into a rocks glass filled with ice.
Step two
With your bar spoon, gently stir the coffee liqueur and vodka together.
Step three
Pour the cream over the top of the ice and serve.
Contributed by Supercall