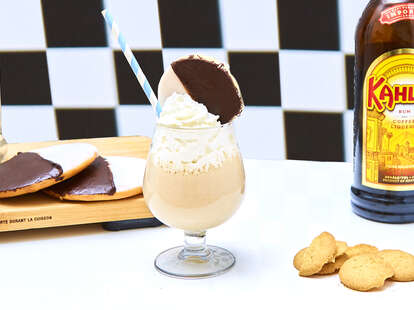 Marisa Chafetz / Supercall
At Alamo Drafthouse, which combines dinner, a movie and drinks all under one roof, a spiked milkshake is the ultimate way to end a luxurious movie-watching experience. Vince Favella, beverage director of Alamo's Brooklyn location explains that the chain wanted to incorporate aspects of the booming craft cocktail scene into the drinks menu without sacrificing the cinema's lowkey serving style, which allows servers to quickly supply libations to a whole theater without disrupting the movie. The solution was to transform classic cocktails into cocktail milkshakes.
Since Alamo Drafthouse drinks are customized for each location across the country, Favella went on the hunt for a New York-appropriate shake. He realized he could combine the White Russian (and Black Russian) with the iconic New York treat, the black and white cookie. "The black and white cookie is such a New York thing," he says. "It's on Seinfeld and everything."
With vanilla ice cream standing in for cream, and whipped cream topped with a black and white cookie crumble for garnish, the drink pushes the cocktail into super-rich overdrive. Alamo sources its black and white cookies from a local bagel shop, but you can find a respectable version at Whole Foods outside of New York. Loudly slurping up every last drop might annoy everyone in the movie theater (though it's totally worth it), but feel free to enjoy this boozy treat as loud as you like when you make it at home.
Black and White Cookie White Russian
INGREDIENTS
10 oz

Vanilla Soft Serve

1 oz

Vodka

.5 oz

Kahlúa

1 Black and White Cookie, whole or crumbled, for garnish
INSTRUCTIONS
Step one
Combine all ingredients in a blender (or milkshake maker) and blend.
Step two
Pour into a tulip glass (or milkshake glass).
Step three
Garnish with whipped cream and a black and white cookie.
Contributed by Vince Favella