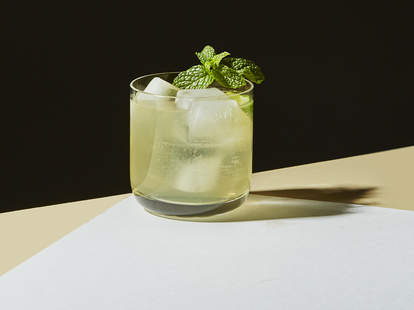 Matthew Kelly / Supercall
Some may know Retsina as that overly piney Greek wine served at Yia Yia's house along with the spanikopita and moussaka. But modern iterations of the distinctive white wine (which gets its unique flavor from time spent aging with Aleppo pine resin) are much smoother and more sophisticated. Producers aren't just using pine resin to cover up subpar wine, but instead to make an already good wine even better. Wine Director Kamal Kouiri of NYC's Molyvos has found these modern bottlings to be particularly good in cocktails, especially this Grecian take on a Mojito. "It features the ancient Greek wine with classic Mojito flavors because mint and lime marry well with Retsina's herbal notes of eucalyptus and pine," he says. Make one for Yia Yia the next time you visit and score an extra big slice of baklava.
INGREDIENTS
2 oz

Retsina

1 oz

Finest Roots

1 oz

Lime juice

.75 oz Honey Mint Syrup

Mint

Lime and mint
INSTRUCTIONS
Step one
Add all ingredients except for the ginger beer and garnishes to a cocktail shaker with ice.
Step two
Shake and strain into a rocks glass with fresh ice.
Step three
Top with ginger beer.
Step four
Garnish with lime wedge and mint sprig.
Contributed by Kamal Kouiri