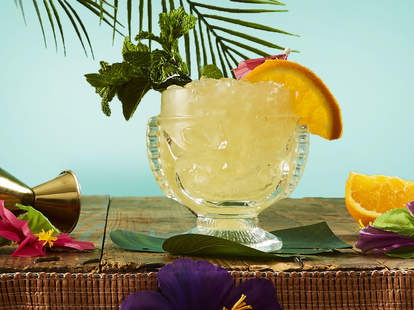 Marisa Chafetz / Supercall
Much like the White Negroni—a white spirit on white spirit variation of the classic Italian cocktail—this variation on Don the Beachcomber's classic Zombie was created by Fort Defiance's Zac Overman using only white liquors (Overman's inspiration came from the 1932 horror film of the same name—which he was surprised to see hadn't been used by a tiki bartender yet). With a deadly mixture of white rum, overproof gin (preferably Hayman's Royal Dock), pisco, coconut liqueur, maraschino liqueur, a homemade velvet falernum (made with overproof Jamaican rum) and absinthe, this heady cocktail maintains the original's rock-em-sock-em punch of alcohol. To soften the blow, Overman adds just a touch of fresh lime and grapefruit juices. Created in the early days of Fort Defiance's now legendary Sunken Harbor Club—a weekly tiki party at the restaurant—the White Zombie won the Art of Tiki competition at the NYC Wine and Food Fest. The drink is served only during brunch, but available to anyone willing to subject themselves to the cocktail's ultra-boozy wrath. The two-drink limit on this Zombie is almost a dare to see if anyone will even try to have more than one.
INGREDIENTS
1 oz

White Rum

1 oz

Gin, Pisco, Rum

1 oz

Pisco

0.75 oz

Lime Juice

0.5 oz Velvet Falernum
0.5 oz Passion Fruit Syrup
0.5 oz

Kalani Coconut Liqueur

0.5 oz

Grapefruit Juice

0.25 oz

Maraschino

2 dashes

Absinthe
INSTRUCTIONS
Step one
Add all ingredients—sans garnishes—to a shaker tin with cubed ice. Shake.
Step two
Using a Hawthorne strainer, strain the cocktail into a tiki mug over crushed ice.
Step three
Garnish with a bouquet of fresh mint, half an orange wheel and a cocktail umbrella.
Contributed by Zac Overman