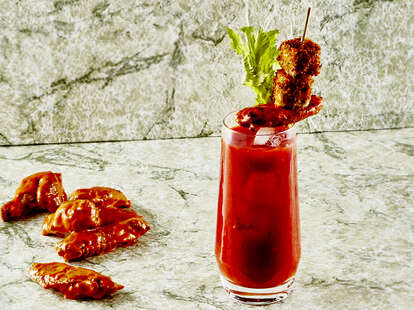 Matthew Kelly / Supercall
When it comes to Buffalo wings, everyone has an opinion. While some believe their hometown joint serves up the hands-down best wings in the country, purists from Buffalo, NY will tell you that it's all garbage unless it's from their city. We, on the other hand, argue that the best Buffalo wings can be found in a cocktail.
For the ultimate game day drink, we combined tangy, spicy, meaty Buffalo wings with another cult favorite that has inspired thousands of variations—the Bloody Mary. It's extra savory, extra zesty, and extra Buffalo-y, thanks to a hefty helping of Frank's Red Hot. For an over-the-top (but still relatively restrained) garnish, we topped the cocktail with fried blue cheese—which delivers an umami-packed punch—a cooling celery stalk and, of course, a saucy, juicy chicken wing. There's never been a cocktail that's so finger lickin' good.
The Ultimate Buffalo Bloody Mary
INGREDIENTS
2 oz

Vodka

.75 oz

Lemon juice

Tomato juice

.5 tbsp

horseradish

1 tsp

celery salt

10 dashes

Frank's Red Hot

5 dashes

Tabasco

4 dashes

Worcestershire sauce

Buffalo chicken wing

Fried blue cheese

Celery stalk
INSTRUCTIONS
Step one
Add all ingredients except for the tomato juice and garnishes to a pint glass and stir to mix.
Step two
Fill the glass with ice and top with tomato juice. Stir until all ingredients are combined.
Step three
Stack a Buffalo chicken wing and two fried blue cheese cubes on a long skewer. Place it in the drink along with a celery stalk.
Contributed by Supercall