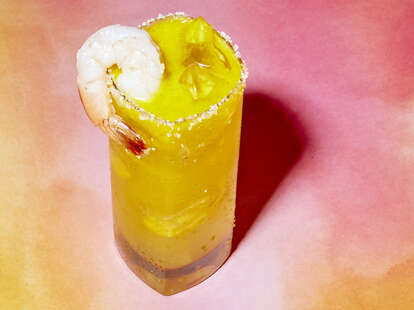 Matthew Kelly / Supercall
Fans of the Bloody Maria will love this exotic twist on the savory cocktail, which is dosed with tangy calamansi juice, umami-packed fish sauce and a spicy salted rim. "This savory, vegetal and high-acid homage to the Bloody Mary was intended to pair with any of Maypop's complex Southeast Asian-inspired dishes," say mixologists Phil Khanderish and Reza Esmali. "Or, when served with the local poached whole shrimp, it's a meal on it's own."
Maria's Shrimp Cocktail
INGREDIENTS
1.5 oz

Tequila

1 oz

yellow pepper puree

.75 oz

calamansi juice

.25 oz

Fish Sauce

Spicy salt

Whole shrimp
INSTRUCTIONS
Step one
Rim a Collins glass with the spicy salt of your choice.
Step two
Build all ingredients, save for the shrimp, over cubed ice and stir.
Step three
Garnish with the chilled shrimp.
Contributed by Phil Khanderish and Reza Esmali