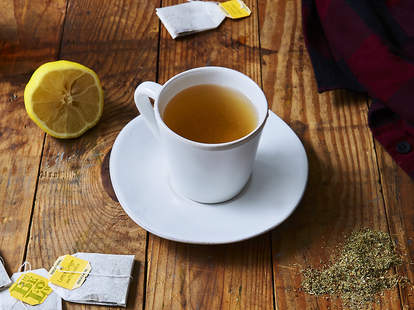 Marisa Chafetz / Supercall
Yuzu is the perfect citrus. Its flavor strikes the ideal balance between lemon and lime, and it's especially apt for winter drinking when the Japanese citrus is in season. When the temperature drops, Kenta Goto, owner of New York's Bar Goto, mixes his favorite yuzu marmalade into a large batch of lemon-ginger tea and adds a measure of Laird's Apple Brandy for a full spectrum of warm fruit flavor. Fresh lemon juice and honey syrup brighten and round out the drink. Goto even serves the finished Toddy with a plate of extra yuzu marmalade on the side, which drinkers can use to amp up the sweet-tart wintery vibes.
INGREDIENTS
1.5 oz

Apple Brandy

1.5 oz

Lemon Ginger Tea

.5 oz

Fresh Lemon Juice

3.5 tsp Honey Syrup
1 tsp

Yuzu Marmalade
INSTRUCTIONS
Step one
Combine ingredients in a saucepan over medium heat.
Step two
Heat while stirring. Do not let the mixture boil.
Step three
Pour into a tea cup.
Step four
Serve with a side plate of addition yuzu marmalade.
Contributed by Kenta Goto