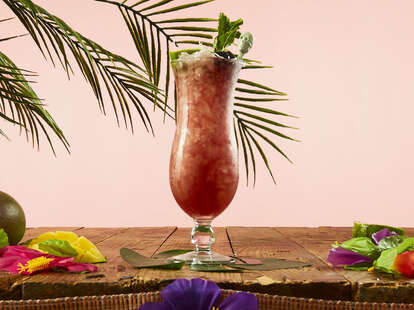 Marisa Chafetz / Supercall
A wintry take on the classic Zombie, created by Cera Grindstaff and Lauren Hinkle at Seattle's newest tiki cocktail den, Navy Strength (which was one of our favorite new bars of 2017), this bracingly strong drink is as dark as the rain-soaked skies under which it was concocted. To give the cocktail the alcoholic punch of the original, Grindstaff and Hinkle layer three different rums at the base of the drink—including Smith and Cross, an ultra boozy, super funky Jamaican rum—with absinthe. With the addition of a port wine syrup and Zucca amaro (which is made, and flavored with Italian rhubarb), the Zombie Pyre becomes rich, velvety and subtly bitter on the palate. The only thing saving drinkers from the cocktail's liquor-heavy wrath is the crushed ice it's served over—and the two-drink limit enforced by the staff.
INGREDIENTS
1 oz

All the rums

1 oz

denizen merchant's reserve rum

1 oz

Smith & cross rum

0.75 oz

Mango

0.25 oz Oleo Saccharum
0.5 oz Port Syrup
0.25 oz

Zucca Rabarbaro

0.5 oz

OJ

0.75 oz

Lime

2 dashes

Bittermens Mole bitters

2 dashes

Angostura bitters

2 dashes

Absinthe
INSTRUCTIONS
Step one
Shake very briefly with crushed ice and dump into a hurricane glass, filling the rest of the way with more crushed ice.
Step two
Garnish with another dash of Angostura bitters, a mint sprig and cherries.
Step three
Fill the hull of half a lime with Bacardi 151 or another overproof spirit, lay it on top of the crushed ice in a secure position, and light the spirit with a long lighter.
Contributed by Cera Grindstaff and Lauren Hinkle