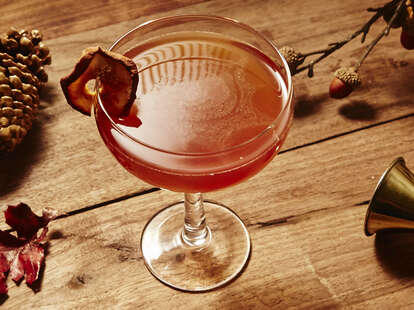 Matthew Kelly / Supercall
Most people aren't born with a taste for scotch, but there are plenty of gateway bottlings to kickstart your appreciation for the smoky spirit. Scotch cocktails provide another way in, tempering the whisky's robust nature with other, more familiar flavors. "For me, this cocktail is a proper scotch 101, which just might make a non-scotch drinker a convert—or at least think twice about the way he or she orders," says Heather Perkins, bar manager at DiAnoia's Eatery. "It's a balanced mix of fresh apple and lemon juices along with briny, oaky scotch." Rabarbaro Zucca amaro, infused with rhubarb, cardamom and bitter orange peel, gives the drink a round finish.
Far From The Tree
INGREDIENTS
1.5 oz

scotch

.5 oz

Rabarbaro Zucca

1 oz

apple cider

.25 oz

Lemon Juice

.5 oz Demerara Syrup

Dehydrated apple
INSTRUCTIONS
Step one
Add all ingredients, save for the garnish, to a shaker tin with ice.
Step three
Garnish with a dehydrated apple slice.
Contributed by Heather Perkins