A Fist to the mouth never tasted so good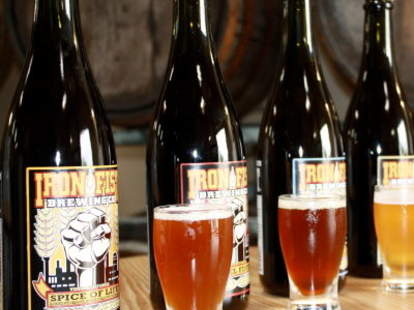 Family vacations can lead to all sorts of things, like an African safari leading to a shared appreciation of the outdoors, or if you're the Jolie-Pitts, to a new family. For a microbrewery born from family fun time, check out Iron Fist Brewing Co.
Inspired by a family tour of Germany/Poland's hop-spots six years ago, IF's a just-opened, family-operated microbrewery running a 15-barrel brew system (w/ four 30-barrel fermentors), and sporting a tasting room decked out with an exposed beam roof, barrels lining one wall, and belly table seating, which'll totally need to be reconfigured when you're done tasting 15 barrels. Fresh takes on classics include a 5.2% ABV Kolsch style "Renegade Blonde", a dry-finishing, malty/sour-noted "Hired Hand", and an 8.1% chocolate/caramel/plum-tasting abbey style dubbed the "Dubbel Fisted", though you'll probably need to start with a Hired Hand in order to pull it off. Other currently-available suds include the "Spice of Life" Belgian with hints of coriander and orange peel, and a "citrusy tasting" 9.5% ABV Belgian style "Golden Age" strong ale; while they've also got still-brewing (but coming soon!) varietals like "The Resistance" wild ale aged in white wine barrels, and an 11% ABV, brandy barrel-aged imperial stout called the "Dark Days", which boats an "uncanny ability to turn the most devout light beer drinker to the darkside"...or at least turn you into Darth Faded.
They're currently only dishing out delicious brews, but in the near future plan on having regularly scheduled drop-ins by gourmet food trucks -- though if Angelina reroutes them to serve underprivileged kids one more time, it's just gonna be the Pitts.