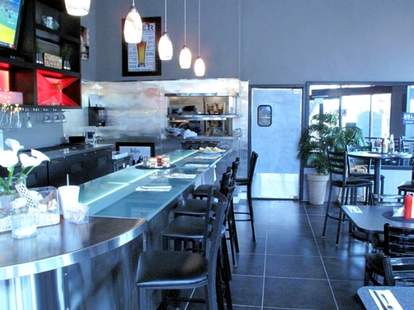 Starting a new chapter in one's life can be extremely difficult, especially if it's written by Cormac McCarthy... dude's a serious downer. Opening the book on a culinary collision of cultures, Pitas & Buns.
Just opened by the family behind Santorini Island Grill, P&B marks a half-move away from their traditional Greek menu, merging American favorites with Mediterranean classics in a mostly murdered-out nook with dark gray walls, striped pillow'd booths, and a stainless steel/ glass bar, which doesn't bode well for the ladies, seeing how it's even lower than the ceiling. For initial snackage, they've got chicken skewers with baked rice and a lemon aioli and cheese and oregano adorned "Feta Fries"; plus they're representing the first half of their namesake with classics like the gyros and the "lightly fried" Calamari Pita, commonly ordered by those in that very same condition. All buns are stacked with 1/3lb patties and range from the cultural mashup "My BIG Fat Greek" with gyro meat/ melted feta/ & Greek yogurt sauce, to the fiery sauteed jalapenos & hot sauce "Nagui's Volcano", to the double patty/secret-sauced "Super Charger Burger", also the nickname Carrie gave her BF from Sex and the City's fifth season when he refused to go to places that didn't take credit cards.
Their liquor license should arrive shortly, but in the interim they're doling out all menu items through the end of the month at a 20% discount-- also the only way to sell a McCarthy book after his previously faithful fans hit The Road.