While it offers unparalleled excitement and opportunity, the Big Apple can also be so corruptingly overstimulating, you find yourself ordering in your emotions from a Korean bodega, and undertipping the delivery boy. To taste the deliciously simple grub of a man who escaped just in time, hit 54 Mint

After Umbria-born Alberto Avalle's celebrated NYC fine-dinery Il Buco caved over time to press and public scrutiny, becoming something far more highfalutin than he'd intended, he retreated to SF to make exactly what he couldn't in NY: "orthodox" Italian made from the world's finest ingredients and so uncomplicated, "your stomach doesn't need a f*cking computer to decipher it". Amidst 54's bi-level, gleaming-marble-bar'd expanse, Al's plating generous helpings of hand-rolled-daily pastas (everything from pappardelle, to fettuccine, to gnocchi) generally paired with just two ingredients, e.g., house-made olive oil, truffles, fossa cheese, heirloom tomatoes, etc; larger mains include the likes of fried Basque bacalhau (salt cod) w/ rosemary & pepperoncino, and Berkshire porchetta w/ garlic & fennel pollen, which pairs nicely with a late harvest Sudafed. 'Berto's also got hella cured meats like acorn-fed Iberian ham and lardo, plus an arsenal of apps like Sicilian rice cakes w/ black squid, and Parmesan shavings served w/ 20-year-old Balsamic -- eat it as you imagine yourself with an even-hotter 18-year-old Balsamic

The all-Italian wine list's got 20 reds/20 whites (10 by the glass, all exclusive to 54 in SF), with everything under $35. You buy 'em to take home if you want, along with any ingredients used on 54's menu, from gelato, to house-baked focaccia, to tons of spices n' herbs -- the delivery of which is just one more reason NYers spend so much time hiding out in their apartments.
Recommended Video
Garlic Bread Meatball Bombs Are a Bite-Sized Italian Meal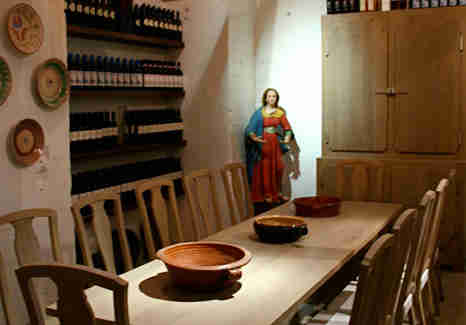 Previous Venue
Next Venue
Venue Description
1. 54 Mint
16 Mint Plaza, San Francisco, CA 94103
This alleyway trattoria in SOMA (with a sister restaurant in Walnut Creek) serves standard trattoria fare with a focus on Roman specialities. The food menu includes appetizers like bruschetta and grilled octopus, and classic entrees like cacio e pepe, gnocchi, and fresh market fish with fennel puree. The space is split between a main dining room, an outdoor terrace, and a downstairs wine cellar.