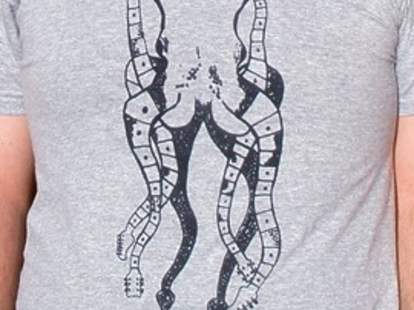 Consume this month's set of Best-Ofs slowly; no one wants to have to burp you.
Emailed to Dallas: DowdyStudio Dowdy's run by a Grapevine-bred Okie transplant whose T-shirt-friendly art has attained the upper echelon of accomplished-amateur status thanks to early encouragement from art-hobbyist parents; his unguided experimentation also led him to an old-school screen-printing process that wears out plates quickly, guaranteeing limited runs, and, if things go well, a Cadillac-driving plate supplier. These babies really are the shirt
Emailed to Nation: Boob Luge Since drinking from cups is boring and lame, step it up and sip from the nipples of this bosomy ice luge mold; life-size and available with optional LED mini-lights, they suggest you let it freeze for about two days before use, then get it positioned, pour booze through the top, and discover what it's like to be a baby in Russia. I mean, come on: the Boob Luge?
Emailed to Los Angeles: Clicker Envisioned as an easily navigable, online TV guide founded by the former CEO of Ask.com, Clicker is a SoCal-based, searchable trove of all sorts of mostly professionally produced online videos culled from multiple sites, which include everything from short TV interviews to full-length movies to made-for-the-web serials, which taste good with skim milk, but now your computer is broken. Get a piece of that Clicker work
Emailed to Chicago: 8-Bit Memory Based in Illinois, 8BM MacGyvers cartridges from classic old-school Nintendo favorites (Metroid, Excitebike, Rad Racer, etc) and expertly transforms them into either adorably retro desk clocks or working external hard drives -- if you can't retrieve your very important documents, simply blow on it, and hit reset. Do they have Bubble Bobble? Only one way to find out...
Emailed to Philly: FanGamb Launching today from a Philly-based trio whose forays into gambling enterprises were occasionally interrupted by attending class at PSU, FG lets friends showcase their prediction prowess by placing virtual wagers on real college and pro games in a league setting that tracks participants' weekly performances, ultimately determining who's the savviest sports bettor, and who should be laying down cash on the Globetrotters. Gambler's Anonymous isn't watching you that closely