Southern eats in an alley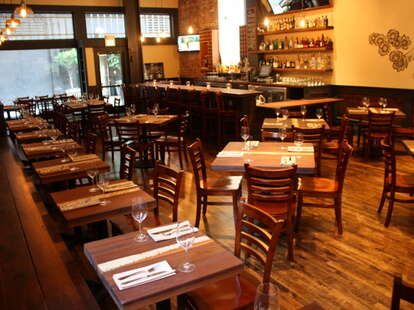 Owned by three Tim Te-bros newly arrived from Florida, Hops & Hominy is a Southern-fried palace opening today in Union Square with a 140-seat, bricks-and-sticks interior that includes hardwood floors pulled from an abandoned roller rink in Petaluma and reclaimed bar tops 'n tables made of Pinot Noir-stained redwood and lumber from an old hops factory, likely run by Vince Carter.
Deep-fatted fare'll come from a subway-tiled open kitchen and include drool- /drawl-inducers like cornmeal-encrusted fried oysters, buttermilk batter fried chicken with baked mac 'n cheese, braised rabbit tortellini, and alligator po' boys, who should just sell off some non-vital part of themselves to pimp shoe stores.
Booze-wise, they'll have an extensive list of rotating American micros (from Deschutes to Allagash), plus in-the-works throat-stroking cocktails like a bacon-infused whiskey/maple syrup Old Fashioned, and the far-more-mysterious "Pork Chops and Apple Sauce", though considering the ingredient secrecy, it's hard to say whether or not you will indeed like them apples.
Still to come: six tables in the outside alleyway (weather permitting), where you'll be able to enjoy a launching-soon boozy brunch that'll no doubt be half-breakfast, half-lunch... half-amazing?