A little bar with a big heart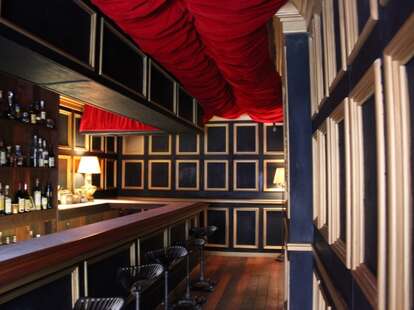 Since the last bar you went to was so crowded you're pretty sure you got pregnant just trying to edge up to the counter, head over to Big, a not-actually-big Tendernob tipplery opening tonight that feels like it's straight out of Clue (estate-sale curated glassware & secret, back-bar-accessing sliding wall panels...), and avoids crowds by managing their 25-person capacity through a Dutch door, which you'll have to knock on to get on the waitlist
There's no cocktail list, because their 'tender extraordinaire (Fleur de Lys, Garcon) goes totally bespoke, meaning even the most dedicated of boozers are sure to taste something new, meaning..
For the man who says: "Me and the bros are going hard in the paint tonight. Gonna get mad chicks up in here with my Rugby polo, pastel short shorts, and loafers with no socks, hit me up with a Jager Bomb, brahzilla."He'd make: Pimm's Averna, pineapple puree, lemon, and gum syrup
For the man who says: "I like classic drinks, but only ones made with a really obscure, fair-trade, hypoallergenic, gluten-free bourbon that you've probably never heard of. Anything less really bothers my ironic mustache and fogs-up my non-prescription frames." He'd make: A lemongrass Old Fashioned (regular ol' bourbon, orange & Angostura bitters, orange/chili tincture, sugar cube)
For the man who says: "Do you have any of those super delicious strawberry daiquiri drinks with the itty-bitty umbrellas in them and that adorable melon garnish? You know... for my girlfriend." He'd make: Strawberry puree, basil, black pepper, lime juice, and beerbrand, topped with lemon olive oil and Angostura bitters
For now, they're open Thurs-Sat, and their kerosene lamp outside will be lit to tell you if it's okay to come in, which someone at that last bar you went to clearly mistakenly heard you say.