Traditional Mexican with a gourmet twist in Duboce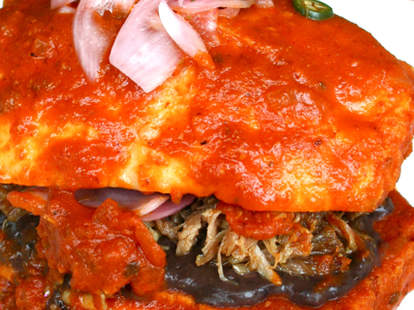 A true innovator blazes their own path, like your parents, who, when everyone else's parents were getting divorced, were like, screw that, let's get separated. Blazing their own taqueria path, Chilango.
The old Azteca space on Church is moderately spruced up (hanging iron light fixtures, walls of Mexican street scene photography, etc), and is now Chilango, a legit Mexico City-style taqueria boldly rejecting standard super burrito fare to offer more authentic, classed up Mexican made mostly from organic produce/free range-raised beasts by an ex-Mexico DF chef who's Pollo is anything but Loco. The tacos themselves transcend typical Mission fare in a hurry, since they come stuffed with onion/cilantro/salsa plus your choice of filet mignon, brisket, short rib, or pork chop, while their tamales're filled w/ roasted poblano peppers and Cotija cheese, and their "Mexico City" quesadillas are served crispy (empanada style), lined w/ sauteed savoy spinach, much like Popeye's stomach. Additional goodness ranges from citrus-marinated Mahi Mahi ceviche, to traditional Pozole stew with chicken, chile guajillo, and cabbage, to a massive, chile sauce-drowned carnitas torta w/ avocado, black beans, and pickled onions, which keeps repeatedly texting all the girls in its phone
Washing it all down're super fresh (huge) aguas frescas, coffee from Chiapas, and exclusively Latino-produced vino from Napa/Sonoma, which is where your dad moved when his new path involved buying a pilates instructor named Cheri a new Blazer.