Butchery diagrams, but cooler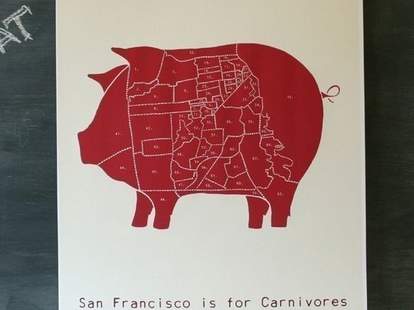 GI Joe's "knowing is half the battle" really doesn't always apply to scrumptious food, as evidenced by the McAnything. Humorously illuminating what's in your meat, Drywell Art.
From a flesh-obsessed San Franciscan who quit her job as a hot-shot government lawyer in favor of full-time artistry, DA offers up hand-drawn butchery-style diagrams of meats both real (pig/cow) and optimistically awesome (Twitter's Fail Whale), all of which're available as 13X19 posters or miniature prints -- also the hardest thing for a seasoned detective to match (Babies or midgets?!?). Popular swine designs include Super Pig (a caped-crusading cut-job that includes "super butt", "super loin", and "super belly"), Really F-ing Good Pig (with five "good" cross-sections and one "really f-ing good" piece of belly meat), and San Francisco is for Carnivores: a pig that's actually a proportional SF neighborhood map including the appropriately sectioned Tenderloin, though hopefully the meat's considerably less junky. Stranger diagrams range from the Hot Dog Mystery ("I don't know, and I don't care"), to Ghost Meat (which the poster states "is a figment of your imagination"), to The Vuvuzela, which's separated into five sections including "Buzz", and "Zzzzzzzz", the latter of which can also be heard from the stands at most Clipper's games.
You can also custom-order new designs from her daily-updated blog (MeatSections.com), with posted-but-not-printed doodles ranging from beer to Mario's evil mushrooms -- yet another ingestible that you only care to know is 100% awesome.