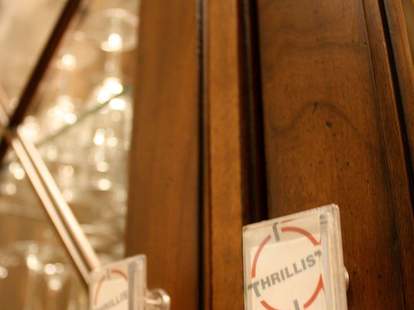 Personal touches can make all the difference...between you playing a full season of football, and getting a six-game suspension that'll later be reduced to four. Now letting you put your personal touch on a much more appropriate kind of knob, Ghost Nest.
From a former collegiate swimmer who's apparently decent at multi-tasking (he conceived his business plans while doing laps), GN is a North Beach-based custom knob maker that'll embed photos of pretty much anything (even nudes, as long as they're tasteful/HOT!!) into one of three polycarbonate options built for any standard drawer or cabinet, but not Rutherford B. Hayes's cabinet -- because he didn't allow knobs, all his dudes were awesome. The GN website walks you through the customization process using the "Dreamerator", an easy-to-use design tool that allows you to upload an image, add text or simply color it, then preview it in 3D, or, if you're not into staring at three-dimensional knobs, feel free to skip that last one. The manufacturing process itself actually goes down in New York (an upgrade from the original factory in the guy's laundry room), where they'll print a laser cutout of your custom image/text/etc., embed it inside a blank knob, and then seal it with a solvent that'll ensure it's steam-proof in case your knob is exposed above a stove, which would be the third and easiest knob joke, but there's a thing called limits, people!
And in case you're not all that creative, they've got a "Gallery Space" where you check out other people's awesome knob designs -- so if you like one, just know there's no shame in Steel(er). Actually, yeah there is.