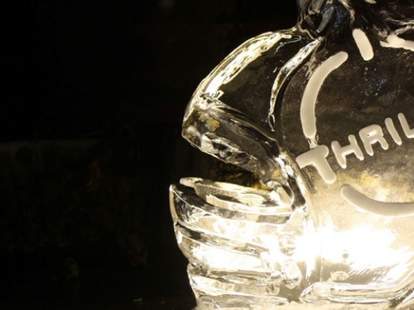 Frozen stuff is usually pretty uncool, like fish sticks, or tundra, or current Ted Williams, or current Ted Williams' children's deceitful souls. Splendidly splintering frozen stuff to make you look cool, Ice Illusions
From a Philly kid who's been chiseling out parking garages for his Hot Wheels since he was six, Illusions is an SF-based frozen water-carving company that turns 300lb blocks of ice into hand-carved party enhancers, including three-channel drinking luges, frozen booze paraphernalia (drink trays/shot glasses), and 7ft fully functional ice bars, finally proving that Vanilla wasn't lying when he was said he was back with a brand new invention. Each sculpture takes upwards of 3-4 hours and starts with a simple hand sketch (inspired by your party theme), which's roughly transferred to a pre-carved 40"x20" block using a chainsaw, then finished with a 5lb chisel/hand saw/high speed Dremel/grinder and finally hosed down, assuming you've already put your g's up. Illusions' greatest hits (which can all be recreated for your 2011 kickoff bash) include an 8ft ski jump-like luge which had to be operated by a skimpily dressed model on a 6ft ladder; a life-like recreation of Bam Margera's dad Phil sitting on the crapper (later destroyed on the nearly unwatchable Viva La Bam Where the F*** is Santa? DVD), and a totally usable World of Warcraft frozen throne -- pick it, and don't expect a crazy night, as everything will presumably be virgin.
Oh and they'll deliver as far north as Napa, east as Monterey and south as Tracy, and can turn pretty much anything you can imagine into a luge -- right now they're doing up Optimus Prime's head -- just don't let Teddy Ballgame's kids near it, as they're all clearly robots in disguise.