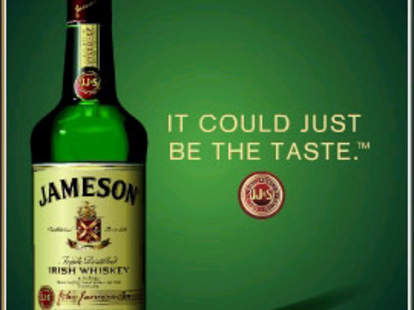 Sophisticated men require two things: the right drink, and deep knowledge of his city's underground offerings -- but while the former's easily acquired, the latter's elusive, especially if you're content sitting at home, slowly sipping the right drink. Fortunately, the right drink's here to help: Jameson's Insider Discoveries.
Founded in 1780 and now the world's fastest growing whiskey, Jameson's taking the savvy only a 228-year-old man of leisure could possess, and applying it to pinpointing SF's smoothest under-the-radar action. The lineup:
Russell's Room Slyness: Go covert-style and tell the doorman "cigar" to access the hidden, candlelit private room inside Bourbon and Branch, inspired by former tenant JJ Russell -- an adulterous Irishman who moved to SF to ink a divorce, then opened a bogus cigar shop in order to serve patrons moonshine (in these smoke-free days, the shifty JJ would probably be serving cigars).
Miracle Fruit Party Heads Up: Organized by a New Yorker named "Supreme Commander", MFPs are underground bacchanalias celebrating a rare West African berry: Synsepalum dulcificum, which makes sour foods sweet, but has been banned as a food additive due to pressure from "Big Splenda". To taste the sweetness, get on the mailing list.
Tanner Goods Bonus: Portland's Tanner uses full-grain hide from one of America's last luxe-quality tanneries (you can't outsource our talent for killing stuff); input THRILLIST when snagging a handmade-to-order wallet off their site, and you'll find a special discount coupon inside, like a dancer inside a birthday cake, and it's not even your birthday.
Bar Americano's Off-The-Menu Margarita: Mixologist Ronaldo Colli's "Tore" showcases the marg's international potential through the use of both roasted jalepeno and tamarind, typically used in Southeast Asia. Ask for it by name, then immediately scout out a girl likely to be impressed you know where tamarind comes from.
For directions to and/or contact info for the buried gold above, click here for a handy reference sheet. If you still decide to stay home, sip Jameson, and contemplate existence, that's okay too, because the most inside discovery of all is you. And cable television.
TASTE RESPONSIBLY.
JAMESON® Irish Whiskey. 40% Alc./Vol. (80 Proof). Product of Ireland. ©2008 Imported by John Jameson Import Company, Purchase, NY