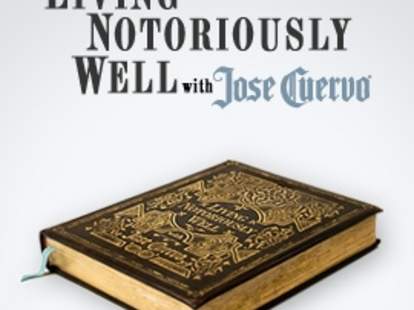 While everybody could use a little borrowed wisdom, most guides to living don't offer advice a self-respecting man would take -- who really wants to meditate their way to absolute bliss, or learn how to write the perfect thank-you note? For a handbook with panache and backbone, check out Living Notoriously Well, with Jose Cuervo.
Inspired by Jose himself, Living Notoriously Well's a compendium of invaluable thoughts, ruminations, and directives, all designed to make you more charming, and better able to make paranoia work for you. Helpful tidbits range from the righteously vain (from Tequila and Almighty You: "The world has never met a dictator who didn't like what he saw when he looked in the mirror") to the jauntily life preserving (Lightning Is Really Cool, But It Really, Really Hurts -- or Death and Golf). Potentially most useful: a chapter explaining how opting for a (tequila) Bloody Maria over a (vodka) Bloody Mary will be the wisest decision you ever make, and save you from having your face ripped off by demons -- and with a few exceptions, who looks better with their face off than on?
In the coming weeks, Thrillist will be pairing the book's wisdom with awesomely appropriate content, helping you incorporate the exhilaration of Jose Cuervo into shared moments with friends, loved ones, and strangers with potential. Be on the lookout, and try on whatever grabs you -- because if you're just gonna sit on devilishly great advice, you might as well sit under a tree instead, meditating 'til you're struck by lightning. See the light at LivingNotoriouslyWell.com. Keep an eye out for selected nuggets of wisdom -- like estranged family members, they'll pop up when you least expect them.
JOSE CUERVO RESERVA DE LA FAMILIA PLATINO Tequila. 40% Alc/Vol. ©2008 Imported by Productos Finos Ltda., Norwalk, CT, under license from the trademark owner.