Lots of good things come from the mean streets of South Boston, like Good Will Hunting, and... um, that adult film with the title cheekily punning off of Good Will Hunting. Well, how about these apples: Marlowe

Say goodbye to South and hello to Marlowe, a rustic American-style bistro with 48 seats that's named for the owner's great-grandfather's butcher shop in Southie, and thus incorporates meat-carverly steez into its slick modern vibe, e.g., a dessert display sits atop a stainless steel butcher block top, daily specials're scrawled on butcher paper, and barkeeps don butcher aprons, but thankfully not masks made out of teenager face. The grub's by a chef who earned three stars at Cortez, beginning with a bar menu that rocks the Marlowe Burger (Niman beef on brioche with caramelized onions/bacon/horseradish aioli), Brussels sprout chips with Meyer lemon and sea salt, and spiced prawns in cocktail sauce that's "hot and boozy", a la Colin Farrell... yeah, right, he wishes! The meatier dinner menu rocks everything from the poulet vert (roast chicken with warm potato/olive/chicory salad), to the grilled pork chop in porcini jus, to a lamb and merguez mixed grill (with sheep's milk ricotta) that's served atop a bed of butter beans, each adorably clad in tiny American flag shorts.

Not to be outdone, Marlowe's affordably delicious wine list's composed of 40 varietals that hail from both Napa and faraway lands like Argentina, and France, from where a lot of good things come, all of which roughly translate to wine.
Recommended Video
Potato Skin-Breaded Queso Balls Will Make All Other Apps Obsolete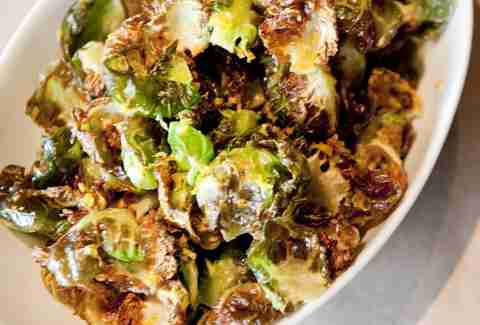 Previous Venue
Next Venue
Venue Description
1. Marlowe
330 Townsend St, San Francisco, CA 94107
Named after the owners family butcher shop in Boston, it is no surprise that Marlowe, founded in San Francisco's swanky SoMA neighborhood, slings some of the Bay Area's best burgers. Not to be boxed in, this American-French bistro offers a diverse menu, which includes its signature Northern California oysters the perfect drink complement from its lengthy wine list.