It's admirable to want to see unused space put to good use, which is why you're doing your friend a favor by luxuriating on his couch right now -- that guy is always at work! Opportunistically moving into Stable, Saison.

From a chef/somm who met working at SoCal's prestigious Stonehill Tavern, Saison's takin' over the Mission cafe-in-a-barn's seldom used, sunlit art gallery and orange tree-studded garden patio; for now their always-changing, seasonal "New American" prix fixe grub and wine pairings are offered on Sunday nights only, but over the next two months they'll ramp up to five nights, making a serious case for being called a restaurant. Pre-seating, guests're intro'd to the night's ingredients (some hailing from the garden) in the kitchen; Sun's kickin' off with an amuse bouche, a cabbage/seaweed/foie gras stew topped off with Monterey Abalone and a veggie medly w/ bagna cauda, a Piedmontese dip prepared in 1512 and proclaims that all vegetables have certain inalienable rights, but tastes fantastic with celery! Dinner then ramps up with the hen itself, served with Indian spices, tender erbette chard, and almond milk, and winds down with a creme fraiche ice cream-flanked plum tart, who totally acts like you shouldn't eat her, but deep down wishes you would

Wine pairings'll be old and new world, and the nice little beer list's highlighted by Hitachino White and a Swiss Carnegie Porter. The catch? Saison's fillin' seats at their maiden meal w/ friends and family, so you're already lookin' at next week, which just got a lot more okay, since the unusual space in your day between Dawson's and Maury just got put to good use by the Gilmore Girls.
Recommended Video
Winter Starbucks Beverages Around The World
Previous Venue
Next Venue
Venue Description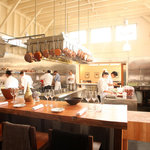 1. Saison
178 Townsend St, San Francisco, CA 94107
Just across from AT&T Park is the Michelin-loved American eatery Saison. This ritzy restaurant offers views of the open kitchen right from your lush seat, so you can watch some of the best in the biz pull together all 18 courses of the nightly-changing menu. Distinctly noted as one of the most pricey restaurants in the entire state, most diners will assure you that Saison is worth every penny just to be in the mere presence of acclaimed Chef Joshua Skenes.