It's impossible to not be fascinated by self-contained systems, like that Skymall glass orb filled with algae and krill, or Bio-dome, which was filled with a Baldwin and Crawl. For a self-sufficient bubble of beer, head to the Sunset for Social Kitchen & Brewery. Brewing all its own beer in house and leaning heavily on said bounty for their grub, SK&B's a massive, tri-level beer-staurant with a long rustic bar lit by sweet custom bottle fixtures on the ground floor, a monumental mezzanine for more intimate dining, and up top, a full-scale brewery, unlike the one Mr. Rogers had in the Land of Make Believe, in that it's full scale, and exists. The proprietary suds range from riffs on lesser-drank Düsseldorf-style altbiers and Cologne-style Kölsches, to their own interpretations of IPA's (more floral and fruity than bitter), and Belgians -- the Golden's dry and spicy, while the dark Double's "table strength", i.e., it has below average ABV%/ the ability to turn Stallone into a crazy arm-wrestling machine, assuming he also turns his hat backwards. The grub's not only specifically picked to complement the brew (hearty dishes like Sonoma Liberty duck breast with duck confit hash, and short rib Belgian-style pot roast with a puff pastry lid) but actually incorporates beer-ific ingredients like malted barley and hops butter -- a staple of the lunch served at Charles Barkley's basketball camp. Then, on a semi-weekly basis, SK&B'll offer educational seminars on everything from successful beer n' food pairing, to home brewing, pickling, and fermentation-- which will make you your own self-contained system, the moment you figure out how to watch yourself play baseball in the mirror.
Recommended Video
It's Worth Getting Sloppy For This Grilled Cheese Taco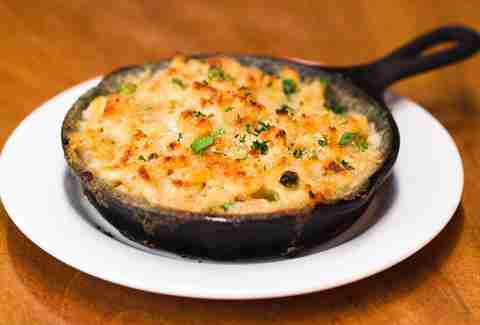 Previous Venue
Next Venue
Venue Description
1. Social Kitchen & Brewery
1326 9th Ave, San Francisco, CA 94122
A go-to for beer geeks right off of Golden Gate Park, this 18-tap hops haven leans heavily on its own award-winning brews but leaves a solid number of lines open for excellent guest taps as well. Bartenders are equally welcoming and knowledgeable, the truffle mac & cheese is some of SF's best, and there's a full bar available in case some of your companions are avoiding gluten.