Though it makes for a hell of a jacket, why would you ever pay for "Members Only" access if you could have the milk without buying the cow? Get maximal love without purchasing a special card for your wallet, at Taverna Aventine

Opposite the TransAm Pyramid, Aventine's a bi-level, Barbary Coast-styled bistro that offers a totally unique exclusive Club program that you totally won't need to bother signing up for. Regardless of your status or lack thereof, you can luxuriate in the sun-drenched upstairs for lunch/dinner (mainly gourmet sandos like poached chicken w/ goat cheese & pancetta, and pork shoulder w/ fontina), or hit the happy hour scene amidst shell chandeliers, a patina mirror-backed wood bar, and high tables, all boxed in by brick and walls tastefully clad in blueprints of Rome (orgy room goes here, vomitorium here...). Even Joe Shmoes can enjoy sequestered guzzling in a clandestine, subterranean brick, dark-wood, and oriental-rugged parlor that serves classic cocktails like Sazeracs and gin rickeys at a lantern-lit/ancient-beamed bar; you're free to loaf in the plush leather armchairs 'til 2am, when the only people who don't get kicked out are in the Dudes Who Stack Chairs Club

If you do need the ego boost that only spending money can provide, membership gets you a rustic booze locker in the downstairs parlor, exclusive weekday access to said parlor from 3-7pm, and invites to monthly parties -- for when you're just craving the company of Members who spend their afternoons drinking in basements.
Recommended Video
Sriracha Bacon Onion Rings Bring the Heat Like Never Before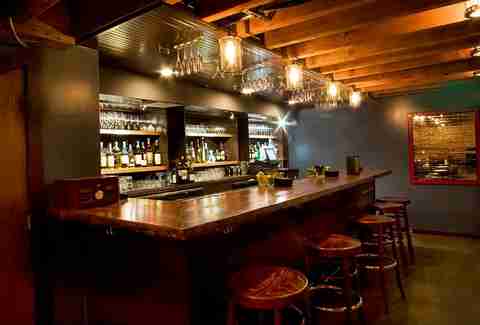 Previous Venue
Next Venue
Venue Description
1. Taverna Aventine
582 Washington St, San Francisco, CA 94111
This upscale bar is an after-work destination in downtown San Francisco. The Italian-inspired menu is filled with high-low bar bites like pigs-in-a-blanket, beef tartare, and grilled pizza. The classic cocktails -- think Moscow Mules and Manhattans -- are strong, and taste especially good at the daily happy hour. Plus, Aventine usually hosts parties on all the festive, nothing-to-do-but-party holidays, like Cinco de Mayo, St. Paddy's, and Bastille Day.