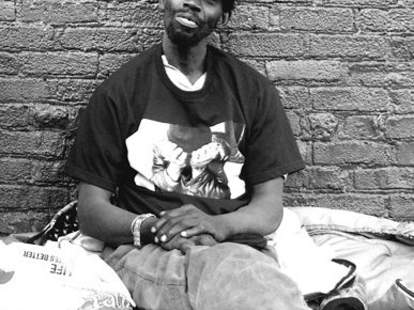 Truly great ideas cannot be limited to just one manifestation -- if that weren't true then how are you wearing that "Cowabunga, Dude" poncho. Bubbling up in many forms, The Tenderloin Project
Sean and John're Loin residents with penchants for photography, film, and giving back to the 'hood that inspires them daily with the TTP -- a collection of black and white portraits that candidly capture street life's raw and unexpected beauty, which comes in many forms: sweet HD vids, an upcoming coffee table book, and wearables thanks to a dope collab with Black Scale, like your scale, except black, and not destroyed due to anger surrounding the Cookie Diet. One vid captures life as it is in the Loin -- money changing hands, shopping carts, crack use, a legless man in a wheelchair, trannies, public urination, cops, dogs, etc, masterfully mashed up to hip hop without feeling exploitative, because Sean/John actually took the time to get to know their subjects, but not in the biblical sense (sorry, trannies). The aforementioned clothing collab consists of two black tees -- one printed with a beanied man despondently holding his head in his hands, the other out-of-focus pigeons flying by rooftops -- and a baseball cap embroidered with "The Tenderloin Project" in script; it's all viewable vid-cum-look book in which Sean/John give the gear to their homeless friends to model, which totally thrills them, and'll make you weep like a girl, or at least Terrell Owens.
Stay tuned for the forthcoming coffee table book, finally replacing Turtle Power: Heroes in a Half Shell In a Feminine Age.