The Weekend Playbook: #BDOYL, poolside BBQ, and Golden Tickets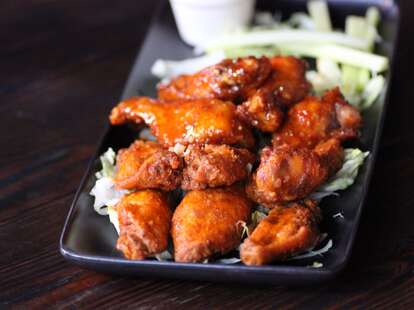 Event of the Week/Millennium:This Friday is the Best Day of Your Life where you will spend the longest day of the year following our ridiculously rad itinerary that takes you on an amazing adventure and includes free food, drinks, and extras (mystery!!) at certain stops. You. Need. This. RSVP here
Thursday, June 20thYou pretty much gotta try out the amazing new menu from the Burritt Tavern, people, because if you don't, you are seriously missing out on some deliciousness
Registration has just opened for a crazy outdoor Labor Day Weekend "Swell Break" at Headlands Center for the Arts, with tons of outdoorsy workshops, including making your own skim board. It's limited, so if you like fun in nature, get on it
From now 'til the 27th, Off the Grid is holding a Golden Ticket Contest for special entrance to their 3rd Birthday Party. So get your ticket by either making a lucky purchase of a dish at one of their locations or tweeting them a pic of you being awesome at any OTG spot
Friday, June 21stIrrelevant. This is the Best Day of Your Life
Sunday, June 23rdFree (actually good) concert in Golden Gate Park? Free (actually good) concert in Golden Gate Park
There's also a free Summer block party at The Corner Store, and all you have to do for $1-off drinks is RSVP
Today marks the beginning of Chambers' Summer Series with poolside "brunch, beats, BBQ". Sounds like a plan
Did we miss anything? Aside from all this, what're YOU getting up to this weekend? Tell us in the comments below -- especially if it's hanging out with Amanda Bynes!
Local Girl We Love, and Where to Meet Her
This is Kate Bolton, cocktail program consultant at Novela and bar manager/partner at Maven, where you can usually find her slinging any of the creations she personally helped concoct.

Why We Love Her: 1) See above (seriously), 2) growing up she used to be a professional dancer (no, not that kind) and along with teaching classes, used to dance with a 1940s band, and 3) she's an avid snowboarder, so if you can't find her at a bar in the Wintertime, you can probably find her in Tahoe... where she will likely be weirded out you found her in Tahoe.

Best Way to Get Her Attention at the Bar: "I try to be pretty diplomatic, but a good way to NOT get my attention is by waving, snapping, or pounding the bartop."

Relation to Michael: "None, sadly... though I can definitely relate to Michael Bolton from Office Space."