Growing up, you eat where your parents tell you to eat -- eat in your room, and you'll attract ants; eat in front of the tv, and you'll become fat, and will be attractive only to ants. Now, eat where you want, at The Tipsy Pig. Named for English swine who get serendipitously swerved off rotten apples, Tipsy's a gastro-tavern comprised of several distinct chowing zones, the be-what-you-want-it-to-be vision of the Mamacita/Umami guys and a Foreign Cinema chef. Hit the brick-backed, tin ceiling original bar (built in 1931), or proceed to the "living room" with its huge leather banquettes, old English photos, and pig trinkets; beyond those lies the intimate "library" (complete w/ hobbit stove and classics-stocked bookcase) and a 50-seat patio lined with trees whose fruits'll be used by the kitchen -- source your food any more locally, and you'll be eating a pan. The tuned-up pub grub's exemplified by starters like pulled pork sloppy sliders and roasted bone marrow w/ crushed gigante beans, plus hearty mains like beer-battered mahi-mahi and daily changing meat pies that could be beef, pork, or hapless teens who were having sex in the kitchen only to be butchered by a guy who died in an accident while his camp counselors were having sex in a kitchen. Wash it all down with 40 local/worldly brews (everything from Hitachino White to St. Peter's Porter) and updated classic cocktails like the "Pig's Sazerac", made with rosemary- and apple-infused Knob Creek -- though once unserendipitously swerved on bourbon, the only people who'll be attracted to you are...aunts.
Recommended Video
This Ancient Incan Rock-Hard Slide Is All Types of Fun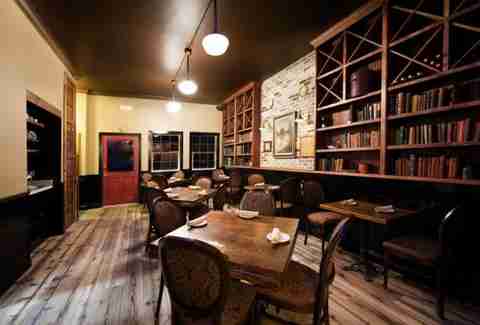 Previous Venue
Next Venue
Venue Description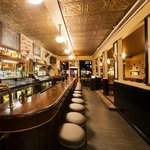 1. The Tipsy Pig
2231 Chestnut St, San Francisco, CA 94123
Brunch and the Marina go together like bacon and eggs (and bottomless mimosas), and The Tipsy Pig has all these things, plus everything else you could ever want in a gastropub. Outdoor patio? Check. 40 local and worldly brews? Check. Cocktails? You get the idea. You're going to want to get here early on a Sunday morning to stake out a spot outside and stay here all day chowing down on huevos rancheros, old-fashioned doughnuts, and the killer burger.