Tito's Vodka Makes it Personal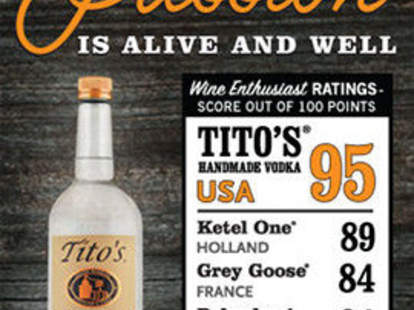 During the holidays, what's better than the gift of vodka? Nothing -- except possibly the gift of Texas vodka, personally signed by the most awesomely named distiller in history, Bert "Tito" Beveridge III. Give just that, with Tito's "Make it Personal" labeling. How it works: just upload your basic info online, including the gift recipient's name, and Tito will personally add his John Hancock -- along with some well-wishes -- to a Tito's label, which'll be mailed to you to affix to the handsome bottle you've purchased. Then, simply hand the inscribed bottle to a friend, wrapped if you're not too lazy, and explain the greatest back-story in all of hooch-dom:
"Hey man. This is the first vodka ever produced in Texas. The guy behind it was a geologist and geophysicist who went from running heli-portable dynamite seismic crews in South America, to running a drilling company, to founding a one-man distillery and taking Double Gold at the World Spirits Competition. Clearly, I am giving you this present because I care about you, deeply. So...should we open up the vodka?" To learn more about Tito's -- including drink recipes from Tito's Tea to a Texas Longhorns Martini -- hit Tito's homepage. To order your label, go to Titosvodka.com/makeitpersonal, and again, don't be afraid to ask the gifted party "Do you mind if I have some of your tasty Beveridge?" Give the gift that keeps on pouring, at Titosvodka.com. Find Tito's retailers near you by clicking right here; find places to take down Tito's cocktails by clicking here.