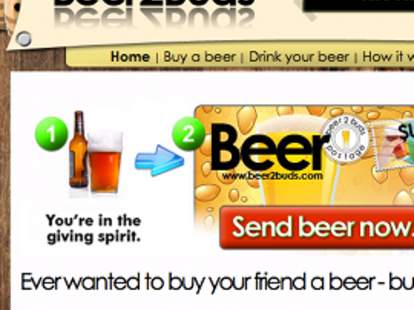 While the internet has depersonalized odious tasks like dealing with government bureaucracies, arranging travel and having sex, there are still occasions that annoyingly require your physical presence. Take buying a friend a beer off that list, with Beer2Buds.
B2B's a stupid-simple site that lets you e-purchase real beers for your friends to enjoy at their local watering hole, launched by a Seattle startup vet after futilely trying to chug the image of a beer someone sent her in a e-card. The deal: just fill in the recipient's info with e-mail and optional phone number, type a personal/vaguely personal message, and choose an amount between $5 and $25; your friend will get an e-mail/text with a drink code, which they'll then enter at Beer2Buds.com in order to print out a "beer card" that entitles them to enjoy one/several on you (alternatively an iPhone app lets bartenders verify without printouts, wirelessly taking all hassle out of getting wired). The current bar lineup is West Seattle-heavy, including Alki Tavern (luau parties and whale watching) and German-food haven Prost; other cities represented so far include Portland, Austin, and Milwaukee, plus absurdly random locales like Xela (Guatemala), San Juan del Sur (Nicaragua), Geel (Belgium), and Budapest, where drinks may be had at "Henry J Beans", the Samuel L Jackson of inexplicable Eastern European nacho haunts.
Once out of the trial phase, B2B promises to greatly expand the number of participating Northwest bars, a beautiful proliferation of establishments you can not-visit as you e-renew your drivers license, and get ready to frantically flee the country.