Kings Custom Action Figures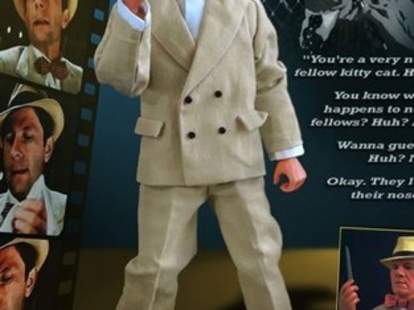 When you can't buy something you really want, sometimes the easiest thing to do is make it yourself, assuming you have all the necessary skills to lovingly recreate David Caruso's craggy face. WAAAAH! Since you lack those skills: Kings Custom Action Figures.
These exquisitely detailed, one-of-a-kind, foot-tall action-figures feature fully posable bodies, bespoke costumes, and custom resin heads painstakingly hand-carved by a Seattle graphic designer/sculptor who wanted to make things avid collectors really want "but just don't exist", so watch out world for his eagerly anticipated Hot Canadian Model Girlfriend doll. The collection's built around celebs in famous TV/movie roles like William Holden in The Wild Bunch complete w/ dusty hat/boots, shotgun & .45/shoulder holster; the aforementioned Caruso as Horatio Caine boasting badge, CSI ID, gun, & sunglasses; a knife-wielding, bow tie/fedora/wingtip wearing Roman Polanski as the Punk in Chinatown; as well as a camo'd, cigarette smoking, M1 carrying Vic Morrow as Sgt. Saunders from the long-running 60's war show Combat!, whose life in syndication has since proved Mortal. KC also does real life figures, like a manically grinning Al Capone chomping on a cigar/holding a machine gun & wad of cash, or the tommy gun toting bank robber John Dillinger wearing a period suit and "a killer smile", like Christie Brinkley if she murdered cops/wasn't emotionally eviscerated by messy divorces.
If you desperately seek even more details, some figures also come w/ mini-dioramas/accessories, and future plans include golden age of cinema inspired figures like Errol Flynn, Humphrey Bogart, and Katharine Hepburn, the purchase of which'll make no one say "a girl" when you ask "Guess Who's Coming to Dinner?". WAAAH!