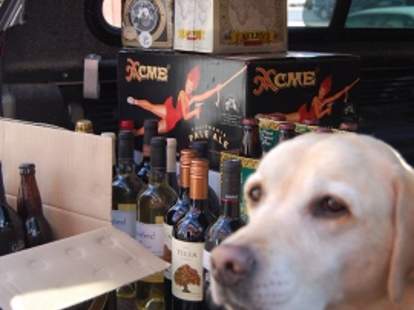 It's easy to wax nostalgic over the bygone days of the neighborhood milkman -- unmatched convenience, friendly, almost familial service -- but then again, as Arnold sagely observed, "Milk is for babies; when you grow up you have to drink beer". Wisely obeying, Milkman Seattle.
Now in trial mode, Milkman's plan is to deliver a "nearly unlimited" selection of beer & wine to homes in selected Seattle 'hoods, once a week with no delivery charges, just a $5 monthly subscription fee; the idea was hatched by a political consultant turned b-schooler after tragically learning b-school was "business school" and "beer school" was undergrad. Once fully rolling, the process will be: select a day for delivery (Wed or Thu by 9 pm, Sat by 5pm), then simply drag & drop available products into an online shopping basket (items will simply disappear as your order's filled); you or a designated agent must accept deliveries personally, but office drop-offs are an option (one that could quickly lead to nothing but home delivery). Offerings range from 22oz bottles of Portland's ltd-edition Hair of the Dog Blue Dot IPA to France's rich, dense 2007 Fat Bastard Merlot; monthly specials'll feature growlers or local beers typically only available in brewers' taprooms and bars -- letting you suck down pub staples in your living room as you dominate The World's Loneliest Trivia Night.
For about a month, Milkman's website will essentially serve as a waiting list sign-up page, from which a geo-diverse set of lucky subscribers will be chosen to participate in the ongoing pilot program -- win a slot, and like Arnold you'll discover "That's true the wolf on the hill isn't as hungry...but when he wants the food it's there".