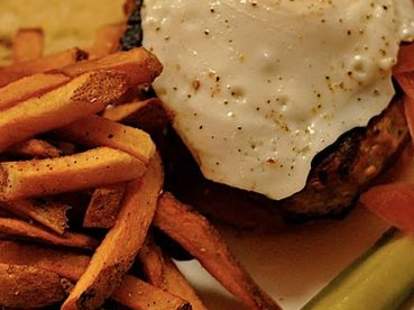 People say that nothing good happens after 2 am but they clearly just don't have what it takes to make thousands of dollars a month working from the comforts of their own home just by placing links on Google. Or for the nocturnal awesome served up at The Night Kitchen
Just opened in the former Entre Nous spot, Seattle's only only-open-at-night diner's owned/managed/chef'd by three Art Institute grads serving up ridiculously resolution unfriendly comfort foods in a brown wainscoted/deep red walled main dining room dominated by a square black bar; there's also a geektastic back lounge featuring a bookshelf stocked w/ graphic novels and table games like UNO and the original Star Trek role playing game, not that you'd know how to play or even care that using a Vulcan is basically cheating because of their natural Psionic Power Potential bonus. The new-every-night menu serves up "late night snacks" like Mac & Cheese w/ Carlton Farms pit roasted ham, fries w/ house made ketchup/mustard/mayo, and a Beecher's Cheese curds/herbed Veloute Poutine; only till midnight dinner items include starters (grilled sticky rice balls/soy sauce/pickled Matsutake mushroom Yaki Onigiri) and entrees like the 8oz Carlton Farms Pork/Maple Leaf Duck burger w/ pickled red onion & sunny side egg on brioche, and a Supreme Sauce Chicken Pot Pie lovingly crafted by the Not Cocky About It Head Chef. Breakfast dopery ranges from starches like Cheese Grits w/ red eye gravy, and Orange-chocolate Brioche French Toast w/ vanilla syrup, to daily carnivore or veggie omelets, split crumpet/Bearnaise sauce Lox Benedict, and crispy white potato/maple sausage w/ two eggs any style, which Jon Favreau prefers neo-classic to the amusement of none.
Beverages are currently limited to soda, lemonade, and a full coffee menu, but as soon as their permit comes through, they'll be serving alcohol till two, giving you plenty of time to head home and start your awesome job that everyone else is jealous of because they didn't act now and don't even want a free Orange MacBook just for signing up!