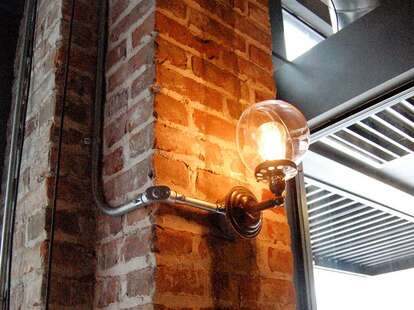 It's notoriously difficult to make the rule of three work, as evidenced by King Lear's three daughters' disastrous reign over his empire, and American high schoolers disastrously forgetting that if you have three numbers a, b, and c, you can find for d simply by finding the product of the means equal to the product of the extremes... stop making out on the mezzanine and learn something, already! For three dudes making it work by ruling a bar, re:public.
Opened by three three longtime buddies/ bartenders (two of whom were behind Post), this night-spot'll be supplementing its solid booze selection with Italian-inspired grub served up in an incredibly high-ceilinged industrial space (a massive black, polished wood bar, a glass garage-style door that opens to the street) that used to be a former warehouse, which, unlike an Andre Ware-house, has room for more than just one trophy. Dinner ranges from house made pastas (Dungeness Crab Agnolotti w/sweet corn & Mascarpone foam), to smoked corn puree/thyme jus Confit Chicken Leg, to Seared Albacore w/ market vegetables and charred onion brodo, also the name of a fratastic hobbit who's always icing other Baggins. Smaller plates include Crisp Pork Belly w/ apple-fennel puree, pickled Granny Smiths & candied peanut; grain mustard vinaigrette Crispy Pig Tail w/ a 5 minute egg; and Hearts of Romaine w/ Rogue Smokey Blue, guanciale, and Green Goddess, aka newly single Tipper Gore. Meow!
RE:'s also got dessert (Buttermilk Saffron Panna Cotta, Chocolate Torte w/ hazelnut puree) and, in keeping with its bar-ness, plans for specialty 'tails, plus domestic & international brews (Maritime, Chimay) on its ten taps, which would fall under the rule of three, assuming one of them is Brodo.