The Weekend Playbook: #BDOYL, SexPop(?!), and free tickets to see Grimes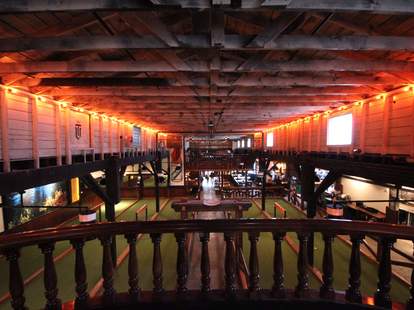 Event of the WeekFriday, June 21st, is gonna be the Best Day of Your Life -- it's the longest day of the year, and we've got all sorts of ideas about how to spend it, including free coffee from Bauhaus, and gratis pretzels from Von Trapp's, while supplies last. Check out the full itinerary right here, and don't forget to hit the event page on Facebook
Thursday, June 20thForty-four bands at four different venues over the next four days, and it's all for charity. So check out Noise for the Needy's full calendar, then score some tickets, here
Friday, June 21stCap Hill's FRED Wildlife Refuge event space is hosting a party called SexPop. They're handling the pop part by bringing in sweet electro acts like Hey Champ & WMNSTUDIES, but when it comes to the sex, it's up to you to get it poppin'. Start by getting your tickets here
Badass Greenwood beer-maker Naked City is opening a new outdoor imbibing area they're calling the Walrus Beer Garden today from 5-11p and Saturday from 1130a-11p.
Saturday, June 22ndSweet wine slinger Bottlehouse is celebrating its third birthday from noon to 6p with special happy hour deals, live music, and a DJ. See what's literally on tap Saturday, here
Monday, June 24thThe chef at Madison Park Conservatory repping his new book with the Pike Place Fish Guys via a series of sustainable fish dinners. The first pits Copper River vs. WA Troll salmon and comes with a copy of their tome, so click here and reserve a place
Next WeekThursday, June 27th: ABSOLUT X is transforming Paramount Theater into a masquerade ball with help from Seattle artist Bert Rodriguez, eccentric indie musician Grimes, and famed mixologist Keith Waldbauer of Liberty Bars. Check out the details, then, for a chance to win tickets, tweet the Disney Princess you'd most like to take as your date @ThrillistSEA. Funniest tweets win
OngoingSweet Asian-eats-slinger Little Uncle has opened a second location in Pioneer Square's old Marcus' Martini Heaven space and is serving up things like mini curried catfish fritters & their signature Pad Thai. See this lunch-only spot's full menu at the Fbook
Portland's dude-friendly hair-cutter, Bishop's Barber Shop, will get you freshly shorn, give you a hot shave, and serve you a cold beer while they're at it. Get all the info on their new Belltown location, here
Did we miss anything? Tell us what YOU are doing this weekend in the comments... unless you're going to a Mariner's game.