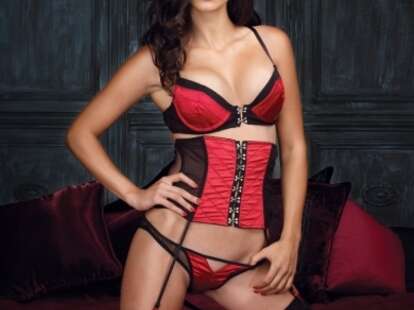 If guys had a good excuse to spend their workday looking at pictures of semi-naked hot chicks, Scott Adams wouldn't be filthy rich and constantly nailing beautiful models foolish enough to think they can be the next "Mrs. Dilbert". Giving you your excuse: Kuhmillion Lingerie
Built by a Wondercraft partner dismayed at the low quality of e-lingerie shops (to say nothing of Sears ads), Kuhmillion can either be seen as a helpfully curated, burlesque-influenced web depot where a man might easily select a gift for his girlfriend, or as a place to tastefully get his smut on in a manner that doesn't conflict with workplace NSFW policies -- because back off, you're shopping for your girlfriend. Delicate imagination-starters include a gartered satin waist cincher modeled by a delightfully pastied blonde, a red floral corset on a dark-haired bombshell falsely identified as "plus-sized", and a pearl-necklaced babe sporting a three-piece satin set of bra, garters, and g-string with a lace-up front, but not a Lace-up front, because American Gladiators tend to favor spandex. Because gifting takes a lot of research, also check out 1920s-style striped black thigh highs as shown on the lower half of a mini-skirted lass, and a diamond-netted black opaque mini dress displayed on a Salma Hayek look-alike you'll think longingly about From Dusk Til Dawn. Frida!
Since actual knowledge of lingerie is a (Victoria's) secret to most guys, Kuhmillion's put together an extensive compendium of panty-history complete with a list of film scenes featuring classy undergarments -- intended to provide purchasing inspiration, but really just a good excuse to do something not acceptable anywhere: watch Swordfish.