Get her out of the house and into the Mandarin Oriental for a staycation (apparently they're all the rage these days!) with a spa they boast is a "soothing oasis" with "heat, water, and therapy", or what Liam Gallagher's psychiatrist calls "banging my client in the shower".
Previous Venue
Next Venue
Venue Description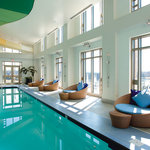 1. Mandarin Oriental Hotel
1330 Maryland Ave SW, Washington, DC 20024
After walking all day and visiting the monuments D.C. has to offer, who wouldn't be stoked to come back to a pristine 10,500sqft spa. Be sure to stop by one of their three restaurants where you'll be sure to find something to satisfy your palate.